About Us
What We Believe
St. Andrew Catholic School believes that:
Catholic values and stewardship enhance the school's learning and environment.
Catholic Education is an integral part of the church's mission to proclaim the gospel message to Jesus, to build communities, to celebrate through worship, and to serve others without distinction.
Christian formation is at the heart of Catholic Education.

Each student is a unique child of God with individual talents and strengths.
All students need to have an equal opportunity to learn.
A variety of learning activities must be included in the curriculum to accommodate differences in student learning.
Student learning is a priority in this school.
Ongoing evaluation and improvement of the curriculum is crucial to the development of a sound educational program.
A supportive and challenging learning environment increases a student's potential for responsible decision making.
Mission Statement
Saint Andrew Catholic School, as part of the parish community, prepares students in a spiritual, academic and nurturing environment to become productive leaders rooted in the Catholic virtues of faith, hope, and love.
Vision Statement
The vision of Saint Andrew Catholic School is to be the cornerstone in the development of the whole student who has been created in the image of God. Students deepen their relationship with Jesus Christ by living the Gospel and participating in the sacramental life of the Catholic Church and so become the next generation of Catholic leaders.
Curriculum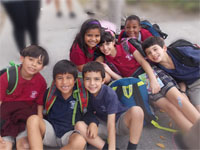 Saint Andrew Catholic School stresses a solid basic curriculum, offering a strong foundation for higher level subjects. The curriculum includes Catholic religious studies, mathematics, language arts, literature, science, social studies, media, Spanish, art, technology, physical education and music. The curriculum is in compliance with that specified by the Office of Education of the Archdiocese of Miami and the State of Florida. Saint Andrew Catholic School is accredited by SACS/CASI (Southern Association of Colleges & Schools), FCC (Florida Catholic Conference) and, NCPSA (National Council of Private School Accreditation)