Events
School Calendar
Click here to access the Saint Andrew School calendar
Church Calendar
Click here to access the Parish calendar
School Newsletter
Upcoming Events
Children Rosary Group

For children ages 5-12
In Saint Andrew School room 128
7:00 – 8:00 pm
Every 1st Friday of the month
Parents Rosary Group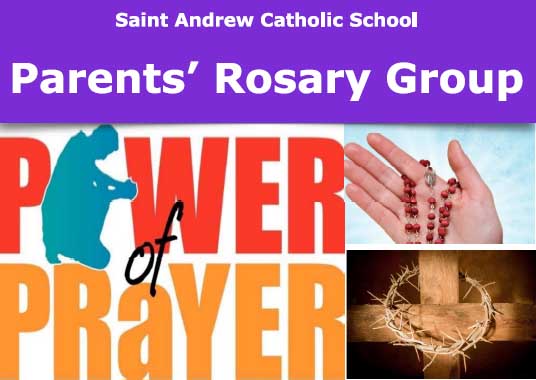 All parents are welcome to join us every 2nd Thursday of the month to pray the beautiful and powerful prayer of the Holy Rosary for our school, parish and children.
In the Social Hall
7:50 am – 8:45 am
Intergenerational Sunday

Our intergenerational events nurture community by bringing together people of all ages to celebrate the faith. We have 5 events scheduled for 2016-17. Click this link to read more…
School Support
Click here to view how to help support the school by shopping at Target
Documents and Forms
Current and Recent Events
JULY
Saint Andrew students help with hurricane Irma victims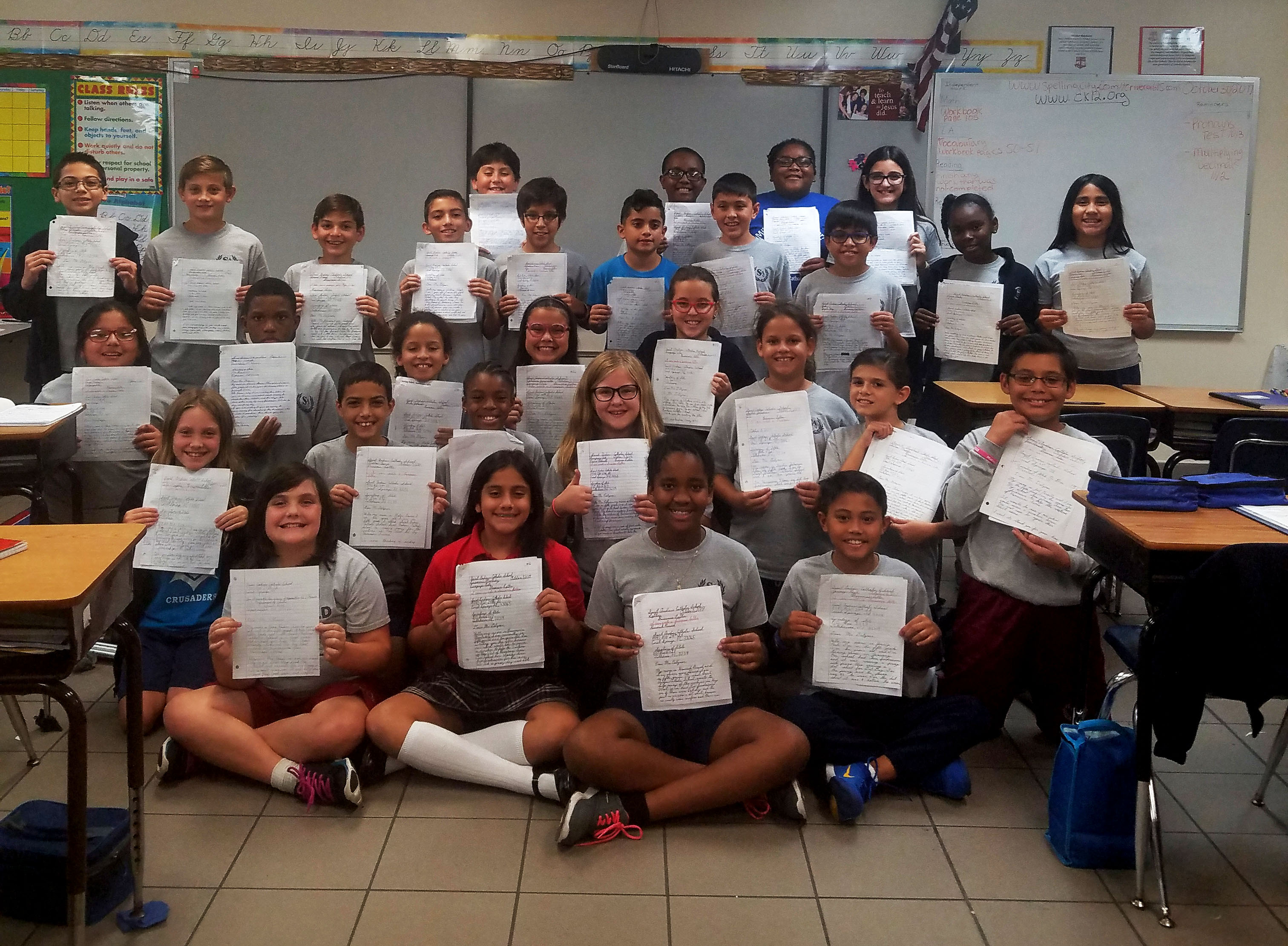 The students at Saint Andrew Catholic School have participated in many fundraisers to help the victims who have been deeply affected by Hurricane Irma, To further help with this cause, Fifth Grade students have written business letters to several people throughout the United States, including, Secretary of State Rex Tillerson, asking them to help out in any way they can. The students hope their letters can make a difference.
Saint Andrew student wins Spanish spelling bee – again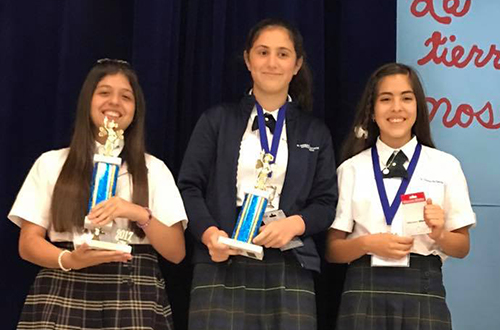 Andrea Schroeder, an eight grader at St. Andrew School in Coral Springs, is the repeat winner of the fourth annual Archdiocese of Miami Spanish Spelling Bee. She won last year as well.
Students from fifth through eighth-grade representing Catholic schools in Miami-Dade and Broward counties competed at the bee, Read more...
Saint Andrew students showcase their engineering prowess
Middle school students at St. Andrew School put their thinking caps on for the school's first Celebrate Engineering Fair. In preparation for the fair, one group of students were challenged to either invent a solution to an environmental, health, or physical science problem faced by their school or community, or to make an improvement to an existing solution. Read more...
St. Andrew School gives drink to the thirsty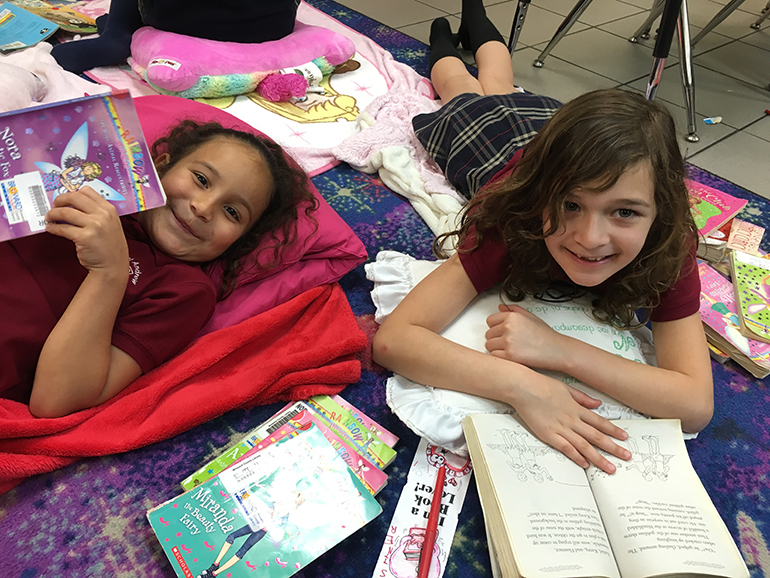 Caution: Reading can be contagious, especially when it's for a good cause. St. Andrew School kindergarteners, along with first and second graders, joined for a Read-a-thon fundraiser to raise funds for a water pump for St. John Vianney School in Flint, Michigan. The Flint, Michigan area has been affected by an intoxicated water supply.Read more...
Good handwriting pays off for St. Andrew student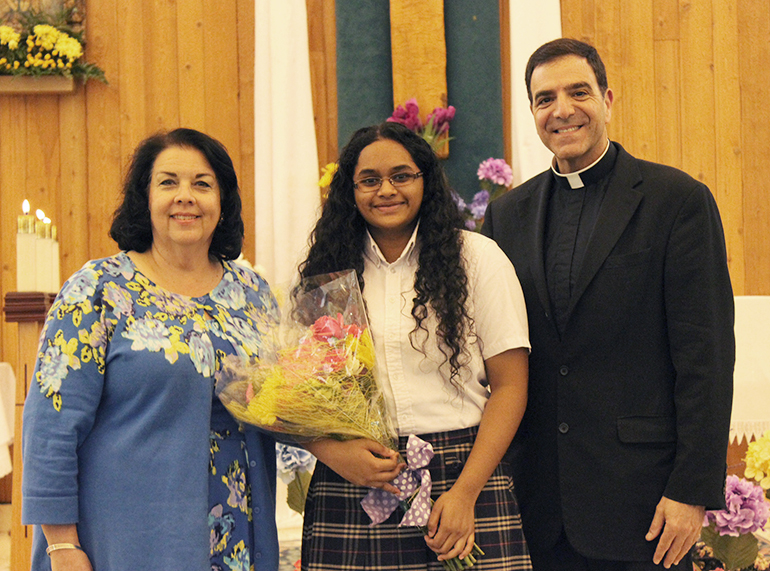 Having beautiful handwriting has paid off for St. Andrew School student Hope Alex. The eighth-grader earned the title of Grand National Champion for her grade level in the Zaner-Bloser National Handwriting Contest. Out of 300,000 participants in the contest, only nine winners were chosen.Read more...
St. Andrew student wins Spanish spelling bee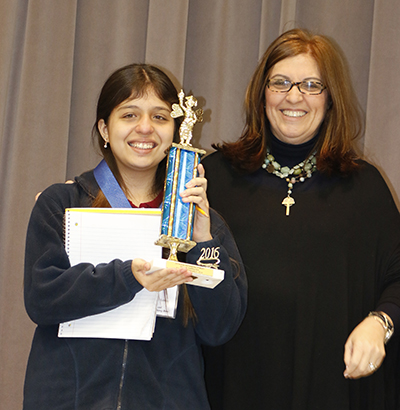 After correctly spelling round after round of words such as "parihuela," Andrea Schroeder, a seventh grader at St. Andrew School in Coral Springs, was crowned the winner of the third annual Archdiocese of Miami Spanish Spelling Bee.Read more...
Global Challenge Game Day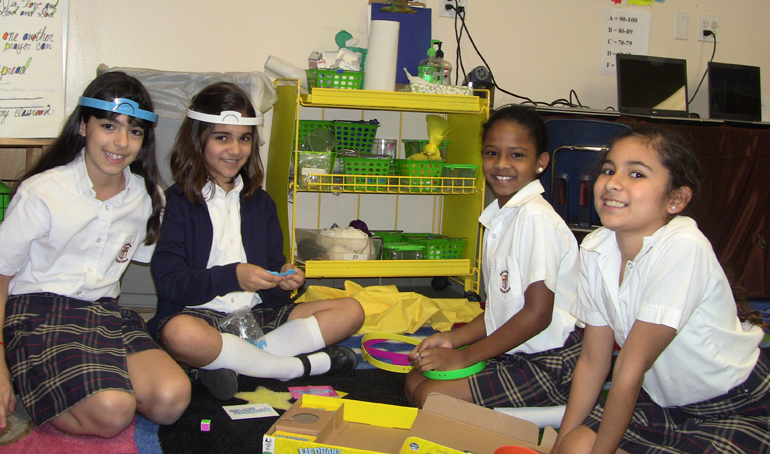 On Global Challenge Game Day, St. Andrew School students joined 60,000 of their peers from around the world in putting their books away for one class period to engage in creative, non-electronic gaming. Read more...
Saint Andrew wins 3rd place in Brain Brawl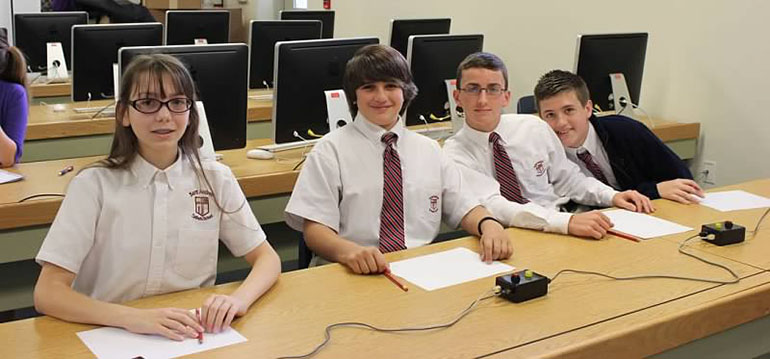 St. Andrew School students won third place at the Cardinal Gibbons Brain Brawl Nov. 15. The Jeopardy-style competition tested students on math, history, current events, literature and science. Read more...
Coral Springs Parade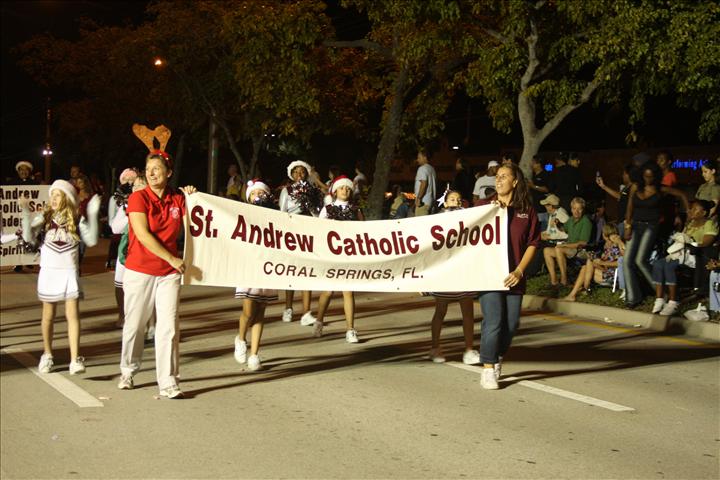 Saint Andrew took home the Commissioner's Cup at the Coral Springs Holiday Parade this year. A big Thank You to the team who spent many hours designing and building our Nativity Snow globe. It was absolutely stunning! Thank you to those who came out and showed their Crusader spirit!
Yearbook Committee
HSA is looking for volunteers to begin its Yearbook Committee!! We need dedicated and committed parents to be responsible for a minimum of 10 pages. We need parents to take pictures of events, sports, and academic achievements. If you are interested in being part of this committee, please email to hamawy_a@bellsouth.net.
If you wish to continue to purchase from our Yankee Candle fundraiser you may do so on-line until December 19th.
Culinary Club
You have been invited by Maureen Voit to sign up for "3rd and 4th grade Culinary Club Fall sign up." Please click on the link below to view the online sign up sheet. To sign up, go to:
www.SignUpGenius.com/go/70A0F48ACA92EA20-3rdand/16663786
Help the school save the environment
Our school is conducting an electronic waste recycling fundraiser. Please help support our school while protecting the environment by donating items such as empty printer cartridges, used cell phones, and small electronic devices. We greatly appreciate your support! There is a recycling container located in the lobby of our school.
Box Tops for Education
Please be sure to look for and cut out your 'Box Tops for Education' on your grocery packages. 'Box Tops for Education' is an excellent fundraiser for Saint Andrew School. The box tops can be returned to school in a small envelope or sandwich bag.
Family Service Hours
Each family is asked to commit to volunteer at least 25 service hours during the school year. All service hours not served are billed at $20 per hour at the end of the school year.
Volunteers Needed
Our Cafeteria is in need of parent volunteers. If you are available to volunteer for lunch duty and earn service hours, please call the school receptionist to schedule your days. PLEASE NOTE…There will be no double service hour opportunities offered for helping in the cafeteria at the end of the school year, so please schedule your hours now.
If you commit to volunteering for a lunch shift and are unable to fulfill this commitment, please notify the school at least 24 hours before your scheduled shift. Thank you.